SCSB Lunch Series: Alan P. Jasanoff, Ph.D.
September 23, 2016 | 12:00 pm

-

1:00 pm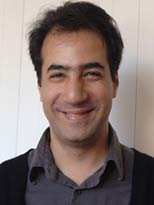 Date: Friday, September 23, 2016
Time: 12:00 pm-1:00 pm
Location: Simons Center Conference Room 6011, Building 46 @MIT
Speaker: Alan Jasanoff, Professor of Biological Engineering, Brain & Cognitive Sciences, Nuclear Science & Engineering, MIT

Talk Title: Dissecting functional brain connectivity in a rodent model of ASD

Abstract: Autism spectrum disorders (ASDs) appear to be marked by altered correlations in brain-wide activity patterns observable by functional magnetic resonance imaging (fMRI). Analysis of these "functional connectivity" (FC) differences could contribute to understanding the pathology of autism, and might also yield biomarkers useful for clinical diagnosis and treatment monitoring. Here we describe an approach to performing FC studies in unanesthetized rats, where mechanistic analysis of sources and coupling mechanisms is possible. We apply this method to the measurement of functional connectivity perturbations in an FMR1 knock-out line, which is a syndromic model of ASDs. Our studies so far suggest a consistent pattern of hypoconnectivity in subcortical networks of FMR1 animals, with respect to wild type. This hypoconnectivity may be related to changes in the mean hemodynamic activity levels observed in different brain structures. To test for neural factors that might cause the observed changes, we are deploying targeted inactivation techniques.