SCSB Lunch Series: Dara Manoach, Ph.D.
February 16, 2018 | 12:00 pm

-

1:00 pm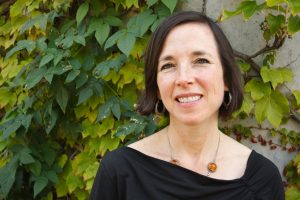 Date: Friday, February 16, 2018
Time: 12:00pm – 1:00pm
Speaker: Dara S. Manoach, Ph.D.
Affiliation: Professor of Psychology, Department of Psychiatry, Massachusetts General Hospital, Harvard Medical School
Talk Title: Abnormal sleep spindles in neurodevelopmental disorders: Treatable endophenotypes that link risk genes to impaired cognition?
Abstract: Although neurodevelopmental disorders are defined by waking phenomena, abnormal sleep is a pervasive feature that may contribute to their manifestations. In schizophrenia, there is convincing evidence that sleep spindle deficits impair memory consolidation.  Sleep spindles, a defining EEG oscillation of Stage 2 sleep, are initiated in the thalamic reticular nucleus and are a product of thalamocortical interactions. I will review evidence that spindle deficits in schizophrenia are: (i) genetically-mediated, (ii) associated with abnormal thalamocortical interactions, (iii) impair sleep-dependent memory consolidation, (iv) contribute to symptoms and (v) are a novel treatment biomarker. I will end by describing our collaborative study of sleep spindles in autism.
Dara Manoach is a Professor of Psychology in the Department of Psychiatry at Massachusetts General Hospital and Harvard Medical School. She is a neuropsychologist whose research program uses multimodal neuroimaging to illuminate the neural bases of cognitive deficits in neuropsychiatric and neurodevelopmental disorders, particularly schizophrenia and autism. The ultimate goal of this work is to identify mechanisms of cognitive impairment that can guide the development of treatment. Her primary area of research focuses on the contribution of abnormal sleep to memory consolidation deficits. Dr. Manoach received her doctorate from Harvard University in Experimental Psychology, completed a clinical psychology internship at McLean Hospital and a postdoctoral fellowship in clinical neuropsychology at Beth Israel Hospital of Harvard Medical School. At MGH she directs the Laboratory for Multimodal Neuroimaging of Cognition in Psychopathology (Manoach Lab) at the Athinoula A. Martinos Center for Biomedical Imaging.