SCSB Lunch Series: Laurel Gabard-Durnam, Ph.D.
September 14, 2018 | 12:00 pm

-

1:00 pm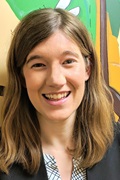 Date: Friday, September 14, 2018
Time: 12:00pm – 1:00pm
Location: Simons Center Conference Room, Building 46, Room 6011, 6th Floor, MIT (43 Vassar Street, Cambridge, 02139 MA)
Speaker: Laurel Gabard-Durnam, Ph.D.
Affiliation: Autism Science Foundation Postdoctoral Fellow, Labs of Cognitive Neuroscience, Boston Children's Hospital, Harvard Medical School
Talk title: "Neuroimaging evidence for Autism biomarkers across the first year of life"
Abstract: An outstanding issue in Autism Spectrum Disorder (ASD) research is the identification of biomarkers to expedite detection and provide insight into pathophysiology. The search for early neuroimaging biomarkers is both promising and challenging as they occur before behavioral symptoms emerge but during extensive changes in brain function. I will present evidence from 2 longitudinal EEG studies in infants at low- and high-familial risk for ASD that leverage neurodevelopmental changes to identify early biomarkers. These studies show that EEG within the first year of life differentiates infants with future ASD diagnoses, and they provide a mechanism through which disrupted neuroplasticity contributes to ASD. Together, these findings speak to the potential of early EEG-based biomarkers for identifying and understanding neurodevelopmental trajectories in ASD.