SCSB Lunch Series: Jeong-Tae Kwon, Ph.D.
June 1, 2018 | 12:00 pm

-

1:00 pm
Date: Friday, June 1, 2018
Time: 12:00pm – 1:00pm
Location: Simons Center Conference Room, Building 46, Room 6011, 6th Floor, MIT (43 Vassar Street, Cambridge, 02139 MA)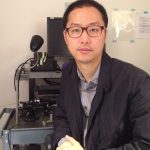 Speaker: Jeong-Tae Kwon, Ph.D.
Affiliation: Simons Postdoctoral Fellow, Gloria Choi Laboratory, McGovern Institute for Brain Research, MIT
Talk Title: "Neuromodulatory Control of Social Behavior in Amygdala"
Abstract: Innate social behaviors, such as reproduction and aggression, need to be tightly regulated to prevent inappropriate social interactions under adverse conditions. While previous studies have mostly focused on the induction of innate social behaviors, neural circuits and mechanism, by which these behaviors are inhibited under inappropriate conditions, are poorly understood. I will present our recent finding that the posteromedial cortical amygdala plays a key role in suppression of social behaviors, such as mounting and attacking, in the adverse conditions (e.g. infectious conspecifics or unfamiliar place). Our results suggest that the suppression effect is mediated through thyrotropin-releasing hormone (TRH) signaling in intra-amygdala circuits. Together, these findings will provide a new understanding into how neuromodulatory signaling in the amygdala guides relevant behavioral outputs that are based on the conditions an individual encounters.