SCSB Lunch Series: Hector Luis Penagos-Vargas, Ph.D.
September 22, 2017 | 12:00 pm

-

1:00 pm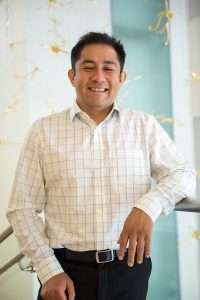 Date: Friday, September 22, 2017
Time: 12:00pm – 1:00pm
Speaker: Hector Luis Penagos-Vargas, Ph.D.
Affiliation: Research Scientist, Wilson Laboratory, Picower Institute for Learning and Memory, MIT
Talk Title: Increases in reward elicit the expression of a joint offline state in the rodent hippocampus and retrosplenial cortex.
Abstract: The hippocampus is a brain structure implicated in a range of cognitive functions including navigation, planning, imagination and the formation of episodic memories. The reactivation, or replay, of hippocampal spiking patterns during sleep and periods of quiet waking has been associated with memory consolidation or navigation and planning, respectively. All these functions rely on the successful integration of information by the neocortex, which may be mediated by hippocampal replay. Consistent with this notion, different regions of neocortex have been shown to engage in a bidirectional dialog with the hippocampus during periods of sleep reactivation. Contrasting with this well-established sleep interaction, little is known about how the hippocampus and neocortex interact during awake replay. In this talk, I will describe a novel waking state in which the hippocampus and retrosplenial cortex, a structure also implicated in higher cognitive functions, jointly transition into an offline state in which they replicate well-known sleep relationships. Understanding these interactions at a mechanistic level could yield insights into cortical integration, which tends to be affected in neurological disorders.