SCSB Lunch Series: Elizabeth Canovic, Ph.D.
August 14, 2015 | 12:00 pm

-

1:00 pm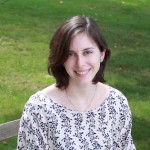 Date: Friday, August 14, 2015
Time: 12:00pm-1:00 pm
Speaker: Elizabeth Canovic, Ph.D.
Affiliation: Postdoctoral Associate, Van Vliet Lab for Material Chemomechanics, Departments of Biological Engineering & Materials Science and Engineering, MIT

Talk Title: Probing the mechanical properties of brain in a tuberous sclerosis model of autism
Abstract: Tuberous sclerosis (TSC) is a multi-system genetic disease that reflects several pathologies also associated with autism spectrum disorders (ASD), including axon hypomyelination and neuronal connectivity disorders. Current studies have focused chiefly on the biochemical and genetic aspects of TSC/ASD, while the associated mechanical and structural features of TSC/ASD brain tissue are less explored. Neural cells have been demonstrated as mechanosensitive – with proliferation, morphology, migration and differentiation each correlated with the stiffness of the materials to which these cells adhere. Thus, we sought to understand whether brain tissue from this TSC murine model of ASD differed in stiffness and other mechanical properties from those of healthy controls. We will present our recent research on the viscoelastic and structural properties of brain tissue and neurons, via atomic force microscopy-enabled nanoindentation and immunohistochemical analysis, respectively. This investigation of the mechanical characteristics of the brain in TSC/ASD will broaden our understanding of causes and markers of the underlying disease, and accelerate development of effective diagnoses and therapies.