SCSB Lunch Series: Barak Boaz, Ph.D.
June 10, 2016 | 12:00 pm

-

1:00 pm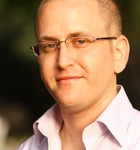 Date: Friday, June 10 , 2016
Time: 12:00 pm-1:00 pm
Speaker: Barak Boaz, Ph.D.
Affiliation: Simons Fellow, Guoping Feng lab, McGovern Institute for Brain Research, MIT

Talk title: Neurobiology of social behavior abnormalities and the role of Gtf2i in the etiology of Williams syndrome
Abstract: Social behavior abnormalities are common feature of several neurodevelopmental and psychiatric disorders, yet the exact neural circuits, genetic contribution and biological mechanisms remain mainly unknowTwo neuropsychiatric disorders that involve opposite social behavior abnormalities are autism spectrum disorders (ASD), which are characterized mainly by hyposociability, and Williams syndrome (WS), which exhibits hypersociability.
In this talk I will first discuss the social behavior abnormalities of ASD and WS, and discuss three key theories, representing the physiological, functional and systemic aspects of the theories in the field of social behavior.
In the second part of my talk I will present our main recent findings in a research project focused on WS, supporting the critical role of Gtf2i, a general transcription factor deleted in WS, in the etiology of the hypersocial behavior. Briefly, we characterized brain regions and cell type that are abnormally active in Gtf2i-hetrozygous mouse model for WS, and consequently knockedout Gtf2i specifically in those regions to define the molecular, neuroanatomical and behavioral outcomes.
Using a novel Gtf2i conditional knockout mouse we induced Gtf2i-knockout only from excitatory neurons located mainly in the cortex and hippocampus and study the behavioral and molecular consequences in a neurodevelopmental perspective. We show that this selective Gtf2i-deletion is sufficient to cause severe neuroanatomical impairments, hypersociability and increased levels of anxiety-like behavior. Interestingly, RNAseq results and biochemical studies demonstrated substantial abnormalities of the transcriptome caused by Gtf2i-deletion from neurons, suggesting a novel role for major synaptic modifications in the etiology of WS.